Course details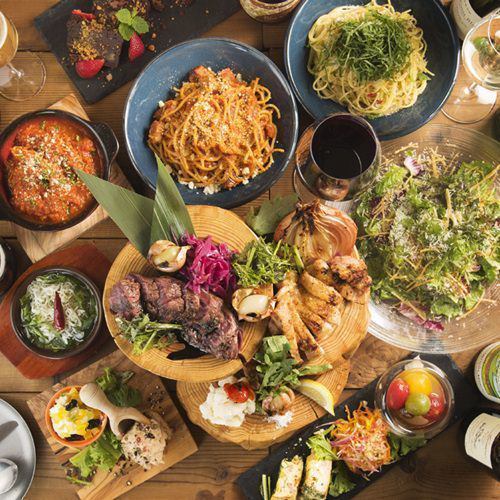 ★ with premium all-you-can-drink ★ 3 kinds of meat can be tasted! "Luxury MARUTA course (all 11 items)" 6000 yen
11items

4persons

~

All-you-can-drink available

180 minute system (LO 30 minutes ago) Beer, wine, highball! Other cocktails available!
Eat meat and compare it! It is a premium course that you can definitely satisfy! ◆ On weekdays only 2 hours 30 hours → 3 hours! ◆ All you can drink is a premium plan!
Menu
Green salad
· Assorted four kinds of appetizers of the day
※ The content varies from day to day
- Anchovy cabbage
·roast beef
· Homemade Pate de Campagne
- Today's Ahijo
· Potato chips truffle salt
· Assorted four Brochettes
· Assorted beef 3 varieties
· Chef's Random Pasta
You may be eating pasta not on the Grand menu!
※ The content varies from day to day
Seasonal dessert
All-you-can-drink menu
·beer
Sapporo Black Label
·Sake
· Maiko Kyo
·Highball
· Ginger High Ball / Cork High Ball
· Sake High
- Oolong High / green tea High
·Cocktail
· Gin Tonic / Jim Buck / Jin Ricky / Rum Coke / Cassis Soda / Cassis Oolong / Fuzzy Negble / Reggae Punch / Moscommeureur / Cassis Orange / Gin Tonic / Jim Buck
·sour
Lemon Sour / grapefruit sour
·wine
Red, white and sparkling
· MARUTA original
· Baked Peach Sangria (White) / Sangria of Mature Banana (Red) / Homemade Lemon Cellosawer / Homemade Ginger Sour
Available days for reservation

Monday - Sunday - Public holidays - Holidays
2018/05/13 update